Clean OverdrivR 2.0 mini
The RML Clean/OverdrivR 2.o

One Left!
A Clean Boost/Overdrive pedal

Price: $99
Free Domestic Shipping Sale!
***In Stock! International shipping $29!
This item is no longer available.
About the Clean/OverdrivR mini
The RML "Clean OverdrivR" is a transistor based Boost and Distortion/Overdrive. When in standard boost mode it can be dialed in to just the right level of warmth and presence. It can even be used like a 1/1 buffer if desired. I've been told by multiple customers that its "Always on" I believe once you start using it you wont want to bypass it.

This pedal has two channels: Clean Boost and Overdrive/Distortion. The right side "DRIVE" stomp switches between these two channels.
When "Drive" is enabled the pedal becomes a warm overdrive that can be a full distortion when turned all the way up.
The footprint is about is 4.5″ x 3.25″
Use this to drive your tube amp.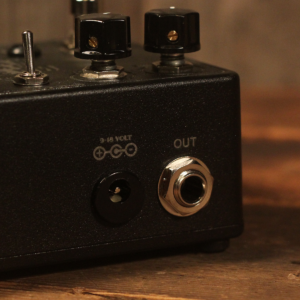 Power Supply requirements: This pedal works with, a standard 9-volt, negative-tip power supply. A higher 12 or 18 volt supply also will work and will provide a louder more dynamic signal.
Controls:
Volume: Output volume of the pedal
Input: This knob controls the level of the signal going into the boost circuit. Helps with a wide variety of pickups and lets you run the circuit hotter if desired.
Tone Toggle: Engages or bypasses the Muff Type tone sweep.
Tone: Tone control
Drive Gain: Overdrive/Distortion level when "Drive" is engaged.
True bypass: True Bypass
***we are offering a couple of "slight blems" These have ether a slight blem on the circuit board or finish. Most of the time you would never notice but that sort of thing bugs the heck out of me.
***All purchases done through Paypal. Special Orders take about 14 days. Units are always shipped ASAP.