432k Sn#721 + Free GPI

432k Distortion Box SN#721+ Free GPI Module!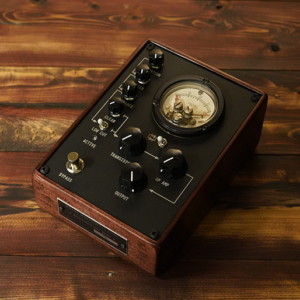 Ready to ship. One in stock.
With Vintage Meter: $439
Domestic shipping: $FREE
Aprox. International Shipping: $40 to $60 We will cover half the international shipping what ever it comes to.

This item has sold…**Requires an 18volt power supply – not included. Click here.
***Please Read: SPECIAL OFFER: BUY THIS AND GET 1 free GPI eurorack module! 
This 432k Distortion box (sn#721) has a very high "top shelf" meter on it.  I had acquired a couple of these a while ago at a cost. They were so nice I couldn't pass up them up. If you want the companion box please take a look at the EFCcv Large format with a similar meter.
Please understand the cost of the box reflects both the cost of the meter and the included shipping.
The 432k Distortion box is designed more for the midrange instruments like guitar. It sounds great with modular eurorack systems but will need a GPI (Guitar Pedal Interface) module for best results.
More on the 432k Distortion box:
The 432k Distortion box is all about signal routing. One distortion circuit with an active hybrid diode/transistor ladder filter (with resonant feedback) for tone control. Another with a clean pass signal. Both signals are merged together and "glued" through a transistor drive and op amp style fuzz. Also equipped with CV in for filter control. ***Use a CV to control the filter.

This model has an additional mod that switches the distortion fuzz from a sharp more mid range silicon fuzz to a softer germanium fuzz.
Things I enjoy about this pedal:
Hybrid Diode/Transistor ladder filter.

Enhanced resonant feedback for more expressive tones

Clean pass lets you bring a quality signal back into the compressed distortion

Op Amp style fuzz at end of signal chain. Dial in harsh tones and smooth them out.

Great for guitars and keyboards

CV filter control. Use CV in to control filter with modular gear, synth or CV pedal.

Low cut toggle for guitar use.
• Knob controls:
Distortion: Volume of Distortion
Filter: Filter Frequency
Resonance: Active resonant feedback
Clean: Clean signal
Low Cut: low end roll off
Transistor: Transistor gain/drive
Op Amp: Op Amp Fuzz
Output: Volume
**Requires a regulate 18volt DC Supply. Standard negative tip with a min of 150ma. (not included) Will run on 12volts for a dirtier sound. Lower voltage will affect the smoothness of the filter.
***All purchases done through Paypal. Units are always shipped ASAP. Please note when purchasing from eBay shipping charges may be vary.
****International shipping can vary.  We will send a separate request for international shipping once we can calculate based on your location.