Jekyll n Hyde #722

The Jekyll n Hyde sn# 722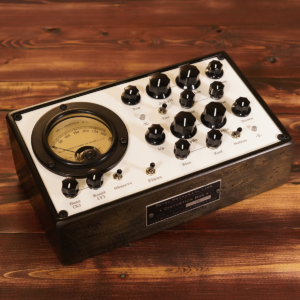 1 available
Price: $499
Domestic Shipping: $Free
International Shipping: $50
***International shipping is estimated.

Sorry, this item has sold.
For your consideration. This is one of our last remaining Nuclear Winter White panels. I may make of this color panel more sometime down the road but for now this is it. The box is a transparent black maple. Meter is a vintage Weston 301. Ready to ship!
More about the Jekyll n Hyde dual filter box:
The Jekyll n Hyde is a dual LP filter distortion box with enhanced resonant feedback. One Transistor ladder filter and one Diode ladder filter. The input can be linked to feed a mono signal into each filter creating a wide stereo effect. This sounds great with mono analog synths. Both filters have a pre drive/distortion, a post gain and germanium clipping. Each filter also has a slow drifting LFO for subtle modulation and CV ins for filter control.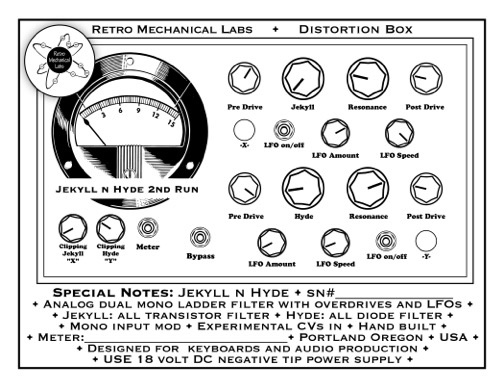 The filters can also be used separately for stereo processing. Just unlink the inputs with the M/S toggle in the back. Depending on how you have it dialed in the you can create a very wide stereo field or a more natural one. Both filters have a different method of distortion in the pre-drive section. Jekyll is cleaner, Hyde can be made to be fully distorted.
***A couple of audio samples a Jekyll n Hyde paired up with a Buchla Modular:
FINE PRINT:
*If you request special shipping, please contact RML via email at johnathan@RMLfx.com after placing your order.
*INTERNATIONAL BUYERS remember all taxes, tariffs or additional fees are covered by you and your responsibility to pay upon pickup/receipt of item(s). Please check with your customs office for more details.