BK CRT HDF #778 + FREE GPI

Ready to ship!
One only. FREE GPI Module with this order!
This item has sold.
Was $499 Now: $419
Domestic shipping: $free
International Priority Shipping: About $45
Requires an 18volt power supply with a negative tip that can deliver at least 150ma. (Not included.) Click here for Dunlop or Click here for Fulltone
**International shipping charges are estimated. We will invoice you for the shipping once we can determine the exact cost to your country. Feel free to message us with any questions. We will cover half of the Priority International shipping.
Please allow two days for shipping. I still need to make the cheat card. 🙂
Please read: YES! You get a free GPI eurorack module with this purchase!
We recently had the pleasure of re-purposing this 1966 BK CTR Model 465 Tube tester with a full Hyde Distortion Filter. In keeping with RML philosophy we did our best to maintain the the original look and feel of the box. I hate arbitrarily drilling holes through text. Keeping with the original design is important to me. Included is some of the original documentation that came with the unit back in 1966.
Size when closed: 10.5″ x 11.5″ x 4″
This piece lent itself to the HDF with minimal altering of the front panel. We did add the rows of CV and LEDs but luckily there was space for that.
This is the exact same circuit found in our Hyde Distortion Filter.
I'll be printing up a cheat card so that navigation of the front panel is easier.
The whole case closes up and can be safely carried around. There is a nice space to store patch cables and a power adaptor. (Power Supply not included).
The box smells of old electronics and tubes. Old dried up capacitors and old yellowing magazines. If you have ever walked into an electronics surplus shop you'll recognize the small. Someone should make it a cologne out of it.
Full Disclosure:
We were NOT able to install lift off hinges for the lid. To do so may have damaged the cloth wrap and everything was riveted on. Had we removed them it would have left the footprint of the hinges so we kept it original. Because of this, when working with the unit it will take up some additional desk space. However it may act as a convenient place to put additional pedals when patching.
Ins and Outs
The audio level is traditional instrument/line level. Drum machines and synths, DAW etc. To use you'll need 1/4″ to 1/8th" cables to interface with regular gear. You can use it with eurorack, but for best results with the audio signals us a GPI module or send and return module.
More about the Hyde Distortion Filter:
•••Euro Rack Pedal only! Sorry guitar people this pedal only has 1/8th inch jacks. All jacks are on the top side/face of the pedal. It is intended to connect to your euro rack system.
The Hyde Distortion Filter is taken directly from the Jekyll n Hyde Dual filter box and cast into a durable aluminum pedal enclosure. This is a distortion box with an active Low Pass (Diode Ladder) Filter and enhanced resonant feedback. A very slow drifting LFO modulates the filter frequency.
2.0 has bunch more CV flexibility.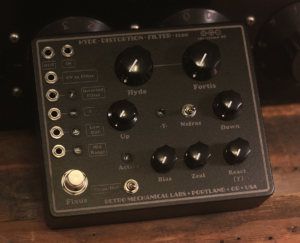 An inverted LPF control. Send a positive saw tooth wave and the response will be in reverse.

Resonance control for those deep clamped down filter harmonics.

A low cut (HPF) to sweep out the low end for creative mixing and layering.

Mid range distortion enhancement. Makes the distortion more dominating

Each new CV has a corresponding responsive LED.
I've also added a distortion bypass toggle to provide an alternative clean input to the filter.
"Active" LED is responsive to input signal. Active LED is bypassed when clean input is enabled.
The Hyde Distortion filter is perfect for creating dark textures and soundscapes. Tune the resonant feedback to match your harmonic droning or wall of noise. Use two boxes to create deep stereo textures. Turn a synth with no personality into a monster.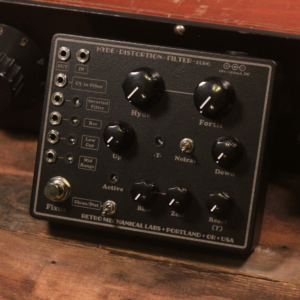 ***Orders may take 1-2 days depending on availability.

Things I enjoy about this pedal:
The sound of the filter! Smooth and dark.

The distortion is not high gain. Works well with noisy synths.

Enhanced resonant feedback for more expressive tones

Pre-filter distortion and Post overdrive for gain recovery

Post germanium clipping/saturation

CV filter control, use modular gear to ….modulate!

Slow drifting LFO modulation keeps an otherwise stagnate signal alive.
The "Active" LED responds to signal input as you feed sound into it.
• Knob controls:
Up: Pre-Distortion
Hyde: Filter
Fortis: Resonance
Down: Post-Drive
Nefras: LFO Modulation
"Y" LED: LFO Pulse
Blas: LFO Amount
Zeal: LFO Speed
React: Germanium Clipping
**Requires a regulate 18volt DC Supply. Standard negative tip with a min of 150ma. (not included) Will run on 12volts for a dirtier sound. Lower voltage will affect the smoothness of the filter.
***All purchases done through Paypal. Units are always shipped ASAP. Please note when purchasing from eBay shipping charges may be vary.
****International shipping can vary. Typically I will credit back any difference when your unit is ready and I am able to verify exact shipping to your specific location.